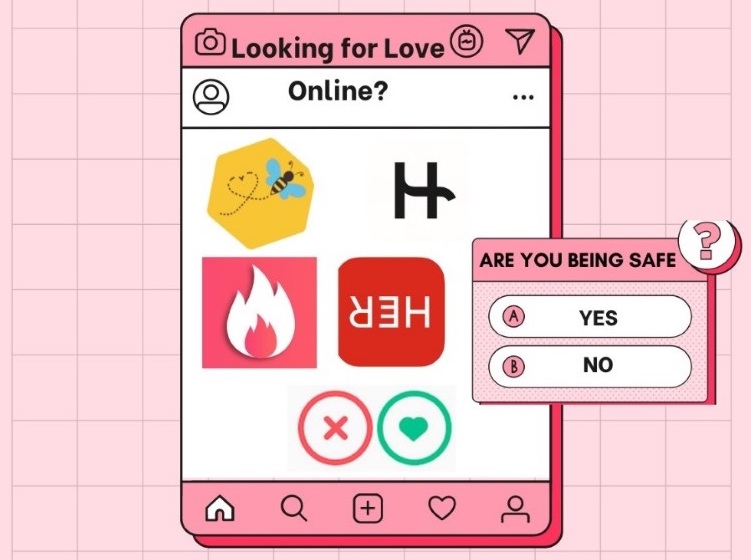 Prioritize Safety When Finding Love Online
The search for love has changed dramatically over the years, and it's no surprise that the digital age has brought about a surge of couples connecting online – even more so amid the COVID-19 pandemic.
According to a 2020 Pew Research Center Survey, a nonpartisan "news group" in Washington DC that educates the public about issues, attitudes and trends shaping the world, "30% of American adults say they have used a dating site or app. A majority of people online say their overall experience has been positive, but many users – especially young women – report being harassed or receiving explicit messages on these platforms. And according to RAINN (National Network on Rape, Abuse and Incest)the nation's largest anti-sexual violence organization, "More than 40 million Americans use online dating services or dating apps."
While many college students still dream of naturally meeting their partner at a bar, bookstore, coffee shop, or on campus, dating apps have made it much more convenient to meet hundreds of people online with just a swipe right. . As online dating becomes the new norm, Parkland College's Center for Student Life hosted an online dating safety event, where students were able to stop by and learn tips for staying safe, identifying good and bad profiles, find the style of profile that suits you best, view sample profiles, and learn more about the safety features that various online dating platforms have adapted to help prevent harassment, abuse and manipulation.
With major stories like Netflix's The Tinder scammerthe story of Shimon Hayut, who allegedly ran a multinational scam, manipulating victims into taking out bigger and bigger loans for him until they were left with nothing, the conversation surrounding security with online dating has been highlighted in the media. It is important to be aware that online dating comes with risks and to understand that there are many safety tips and resources available to you to increase your safety when you meet someone, anytime, online.
Parkland's "Learn Safer Ways to Match" booth had posters that offered the following five red flags to look for when entering the online dating scene:
When someone only wants to meet in private
When someone just got out of a relationship
Only one photo on their profile
When someone only wants to talk via text
Immediately send explicit messages
The booth also presented students with a list of security features that the most popular dating services have added to their apps to help protect their users:
Tinder
Has a built-in panic button that allows users to report their location to local authorities
Offers a "Tinder timeline" that allows users to manually enter the date, time, and location of an upcoming meeting
Verifies users and adds a blue check mark next to profiles that verify their identity by taking photos that match a series of sample poses
Hinge
Limits the number of profiles a person can like to 10
Reporting Features
Offers a "First Date Check-In" which allows users to complete a survey after a first date with another user
His
Verification of criteria requiring photo ID and an active social media account
Verification of registration which may take 3-4 days to be verified to use the app
Offers an incognito mode that allows users to use the app without exposing their identity.
Bumblebee
Photo Verification
In-app audio and video calls allow users to communicate without giving out personal information
Offers a "private detector" to prevent unwanted photos
Students were also able to obtain pamphlets on domestic violence, consent and sexual assault, providing them with knowledge about what consent and abuse looks like and resources to support anyone at risk of being assaulted. sexual or physical. To learn more about online dating safety, visit Be safe online for the best security advice from qualified professionals.