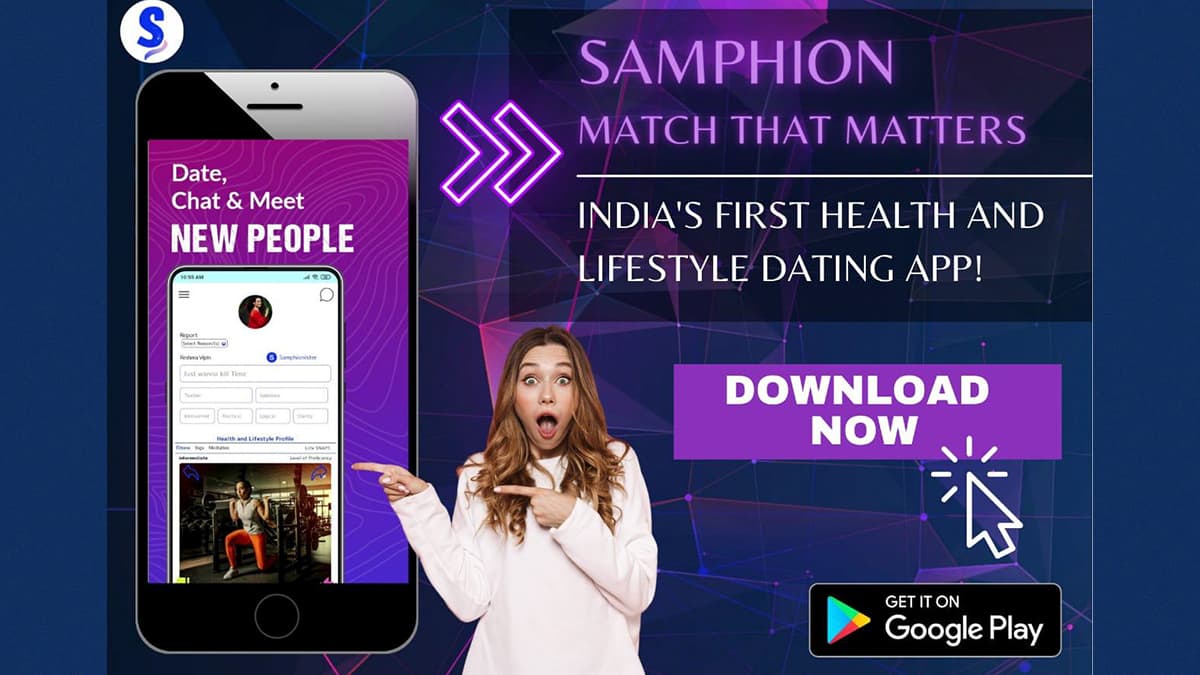 Samphion, a game changer in the online dating world
Samphion is India's premier health and lifestyle dating app.
Udit Shah, the founder of Samphion previously worked as a consultant as well as an assistant manager in the field of sales and marketing at Maruti Suzuki India limited. He explains: "We want to give you a reason to meet and a goal to spend time together, because when you share common interests with other people, you exchange experiences, information and you have the opportunity to learn. new things by chatting and sharing. your link. "On the other side, we have Asha Ponnachan, Samphion brand expert and mentor. She is an anti-human trafficking activist and has 18 years of experience in marketing and business development on 3 continents.
This app is a golden ticket for you, if you enjoy meeting someone who is on the same page as you and who has similar health and lifestyle practices! Samphion's approach to connecting members with like-minded people focuses on bringing together individuals who have similar health and lifestyle practices, not just how they look. Users can view profiles in 16 different health and lifestyle areas with just two clicks. For example, meditation, green living, mindful diet, walking, exercise, fitness, skin care, yoga Sana, 5 a.m.
Club, Mindfulness, Swimming, Dance, Zumba, Hiking, Music, Fashion etc.
By organizing their health and lifestyle profile, users can express themselves. For example, a user can post pictures and describe their interest in various fields, such as yoga, meditation or maybe music, etc. When the two users are interested in each other, they are paired and can start texting. When one user sends a like and the other sends a super like, the two users find their samphie (their match) and can start to interact.
For example, if you love tennis or jogging, you will always be paired with someone who enjoys yoga or boards. What you will have in common is the desire to be healthy, rather than a certain style of exercise. Likewise, if you love music, you can be matched with someone who enjoys fashion, dancing, or other similar activities, depending on your preference. Compatibility is not a science, but the closer the lifestyles of two people, the faster and stronger they bond.
Samphion puts the safety and security of its audience first, so you can trust it and focus on making real connections.
Their services are developed with your privacy in mind. For example, Samphion will not allow screenshots to be captured on their app.
Samphion is the first and only platform in the world to reward users for adhering to safety guidelines.
Yes, you read that right. For example, when a user reports an abusive, illegal, or fake profile, their complaint is validated, and if found to be genuine, the user is rewarded with badges, which help increase the profile of the user. It's a method of rewarding good actors on their platform to help them point out bad actors.
The "verified" and "Samphionister" tags are used by Samphion to verify profiles. Additionally, users who sign up with their phone number are more likely to be verified.
Anyone who is passionate about a healthy lifestyle and wanting to meet like-minded people for dating should download Samphion immediately. Samphion has people from top colleges in India working the best – in the classroom to make this app a huge success – from graphic designers to social media administrators to performance market specialists.
The chances of meeting the right people are much higher than if you left it to chance. It's more likely to find a compatible date if the group is more organized, and for you, Samphion will take care of that.
Download Samphion now! and iOS users, don't worry, we'll be available to you soon. Until then, stay tuned.