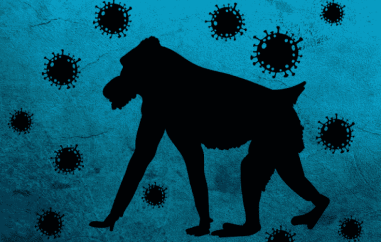 Second confirmed case of monkeypox in Brandenburg
In Brandenburg there is the second confirmed case of monkeypox. The virus was detected in a 35-year-old man from the district of Teltow-Fläming, and the Robert Koch Institute (RKI) confirmed the suspicions on Saturday, the Brandenburg Health Ministry announced this evening in Potsdam.
The infected person is in isolation. On May 28, suspicion of monkeypox was confirmed in a 40-year-old man from Potsdam. This is the first confirmed case in the country.
Monkeypox is considered a less serious disease than smallpox, which has been eradicated since 1980. According to the RKI, the pathogen is usually spread from person to person through close physical contact. Symptoms usually go away on their own within a few weeks, but in some people they can lead to medical complications and, in very rare cases, death.
People who may have come into contact with infected people are advised to pay close attention to symptoms and reduce contact as a precaution.
Since early May, the virus has spread from person to person in Europe for the first time with no epidemiological link to West or Central Africa. Early symptoms include fever, headache, muscle and back pain, and swollen lymph nodes. An extensive rash is possible.
Image by Alexandra Koch