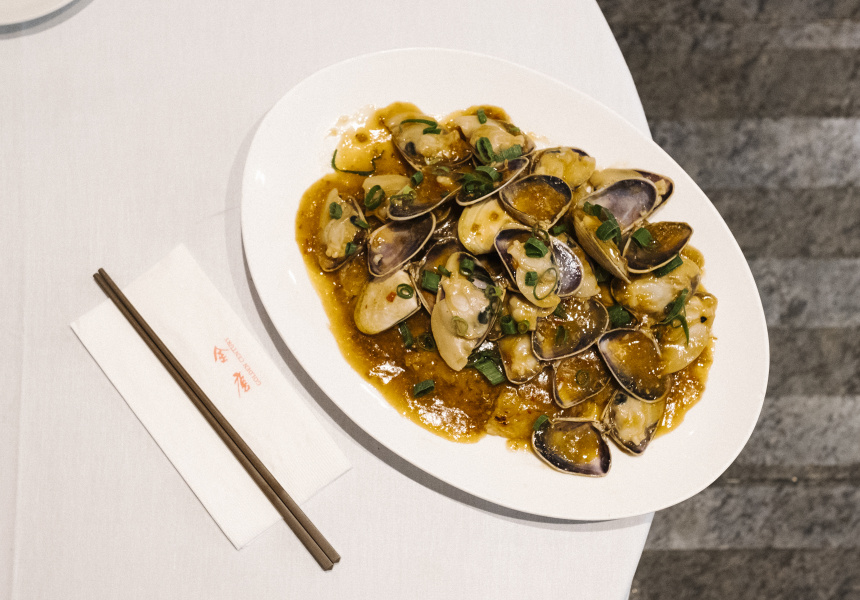 What Australia's top nine chefs are up to for Christmas
Many of us have something special that we love to bring out every Christmas, something that stands out from the usual holiday fare. So we asked some of Australia's best chefs, what do you like to cook on Christmas Day?
Joseph Abboud, Roumi

"At the risk of taking credit for the work of my wife Nat, she cooks a beautiful ham every year. We order a brined leg from the butcher in Donati and cook it overnight; It became a real Christmas memory to have the glow of the fir tree and the smell of cooked ham in the house. Nat then takes it out of the oven in the morning and removes the skin, the cloves and the ice cream. A real cooked ham. So good.
"And this year I'm doing something very exciting. We cross the Lebanese ma'amoul biscuit with the anglo mince pie to make a complete ma'amoul hash of barberry and orange blossom!
Rosheen Kaul, Etta

"Our annual Christmas spread features a dish of Eurasian culinary tradition from Singapore and Malaysia. Devil's curry, or kari debal, is a very spicy curry that has roots in vindaloo, using vinegar, mustard, galangal, and candles as a seasoning for this special occasion dish. My mom uses both chicken and Chinese roast pork to make my grandmother's recipe, which appears on Eurasian tables around Christmas.
Hugh Allen, World View

"I always have Sydney rock oysters served plain or with lemon. Make sure you never buy pre-shucked oysters; they are dead. I also have some smoked Christmas ham, served cold. I know it's not the traditional glazed cooked ham, but that's how I ate it when I was a kid, so I guess that's why I prefer it. Plus, we usually have a huge leg so it lasts the whole week after Christmas. "
Ben Sears, Ezra

"To be honest, after a year of hard work in the kitchen, I usually like to take Christmas time off and let someone else do the cooking! Since we have been in Sydney, my partner Eun [Hee An] and I've always been to the Golden Century on Christmas Day, but since we can't do it this year, we'll have to make our own pippies with XO sauce. Eun started her Asian grocery store Moon Mart this year and makes her own really nice XO sauce, which makes it easy. It's never the same at home because you can't heat a wok enough with household gas, but if you have good quality pippies and XO sauce you have everything you need for a tasty lunch.
"I would also like to point out that when I run the kitchen of a Tel Aviv-inspired restaurant, I am not Jewish – but we try to respect Jewish customs, and eating Chinese food on Christmas Day is a custom. that I can appreciate. "
Rosa Cienfugos, Itacate

"From north to south, Mexico lights up for Christmas Eve, calling the whole family to enjoy and organize a big party together with a wide variety of dishes. Mom and Grandma dust off the secret cookbook and cook overnight for a fabulous dinner. It's important to remember that different households in Mexico have different traditions, which makes it difficult to focus on just one dish. There is no such thing as a "one-size-fits-all" Christmas meal that represents the whole country – however, I would love to share my own traditional dinner for this special holiday, and I'm sure at least a few other families in Mexico are already getting ready. cook the same dishes!
"For many Mexicans, one of the go-to dishes is ensalada de manzana (apple salad). This delicious sweet treat is the highlight of my table, made with cubes of golden apple, condensed milk, diced pineapple or peach in syrup, sliced ​​pecans, cream and iced cherries. It is the perfect accompaniment to a stuffed and baked turkey, which can be marinated with annatto seed paste (annatto), orange juice vinegar and lime. The filling contains raisins, ground beef cooked in a tomato sauce with garlic, onion, ground black pepper, slivered almonds, sliced ​​pecans, oregano, cumin and salt.
"My signature dish every Christmas is oven-baked poblano rice, made with poblano pepper, cream, white pepper, salt and lots of cheese, using a blend of Oaxacan, mozzarella and savory. Creamier is better, with a good baguette or pane di casa bread to fill your stomach and your heart! Ponche (fruit punch) is the drink of choice, and sometimes we get a little cheeky and add a little rum or brandy.
Phil Wood, at Ursula

"My wife and I have had a tradition on Christmas morning since the beginning of our relationship. We start the day with a champagne breakfast, a dozen freshly shucked oysters with a traditional mignonette and lemon, and cos lettuce and fresh cream topped with salmon roe or caviar. The crunchy crunch of lettuce, the spiciness of crème fraîche and the salty taste of eggs, all washed down with a glass of Roederer, is one of the beginnings easiest to prepare yet most luxurious Christmas Christmas Eve Christmas album you can have. And yes, Mariah Carey's Christmas album can hit the record player as we get into the serious business of opening the present, which is closely followed by a classic Christmas lunch of shrimp with Marie Rose, grilled fish, Christmas ham (a nugget is all we need) and pavlova. I love that everything is light and fresh on Christmas day , and the easier it is to prepare, the better – more time p for naps in the afternoon sun.
Brendan Pang, Bumplings

"My special dish this Christmas will be grilled Western Australian crayfish with burnt butter, tamari and crispy capers. I always think simplicity is best when it comes to fresh seafood. Crayfish are one of those naturally sweet and juicy proteins, so you don't have to do much. I'm going to grill them on the embers shell side down so that all the juice is taken inside and the flesh takes on a slight smoky taste. The tamari is a nice tasty touch along with the crispy capers, and the burnt butter takes it to a whole new level.
"We are so lucky to have such amazing products on the West Coast that every Christmas I do my best to incorporate them into the menu. One of my favorite vacation activities is heading to the harbor to pick up freshly caught crayfish from the backs of the boats that have just been moored. Traditionally, shrimp have always been the star of the Christmas feast, but last year I figured I would support the local crawfish fishermen who go the extra mile. I made lobster rolls inspired by Andrew McConnell's Supernormal dish and thought this year I would keep it simple and grill them for the whole family to enjoy.
Karena Armstrong, Salopian Inn

"Christmas at my house is really relaxed. It's all about family time, swimming and food, of course. Breakfast is always crab omelets. I use a very hot wok with a generous drizzle of oil, two lightly beaten eggs and fry until they puff. I steam the crabmeat with ginger, soy, cilantro, olive oil and chili, drop it in the cooked eggs and flounder. It is served with lots of fresh herbs and chili sauce. We have them with fresh fruit juice for the boys and a glass of sparkling good for us. Lunch is great in the late afternoon with charcoal and prawns, crayfish and lots of grilled and seasoned vegetables. I don't spend hours in the kitchen on Christmas Day; we keep it fresh and super simple. All the vegetables are cut the day before, ready to go.
Suwisa Phoonsang, Thai Naga

"My inspiration for this menu is to present Christmas 2021 with a Christmas dish as close as it is traditional that everyone knows and loves, but with a Thai twist. We will include special dishes such as baked Cone Bay barramundi with chili scallop mousse, kaffir lime and coconut meringue. Additionally, one of the many options we will be offering vegetarians is a taro Wellington. We will finish with our favorite dessert: the mango and coconut trifle. With all the dishes we have put a special technique to bring them to life, which is love.
You can try recipes from several of the chefs featured here in our new cookbook, Home made, available now for $ 49.95.